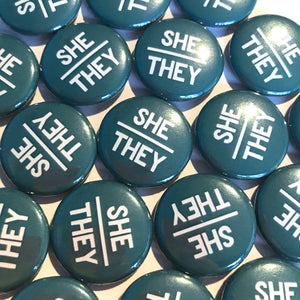 Make your pronouns loud and clear with our dark turquoise 25mm She They badge. Perfect for wearing on your favourite denim jacket, back pack, or lanyard.
Details:
Great quality
I ordered this for a friend and they absolutely love it. It was a tiny bit difficult to put on but it's great quality and I do recommend it
Great gift
Nice to see a selection of different pronoun badges available. This was a gift for a friend who has very happy with the quality & colour.
Super cute!
Been looking for a cute little pin like this for such a long time! I wear this almost everyday now - lots of love from Down Under!
LOVE!
perfect size for my uniform, gorgeous color and pin goes through clothes well. also very discreet packaging which is good for anyone who is closeted. if you want a pronoun pin this is the pin to get!!